Australian Capital Territory Emergency Services Community Awards
Congratulations to the winners in 2020
ACT AMBULANCE SERVICE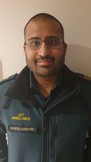 Susith Adikari
Susith is an intensive care paramedic and has dedicated 13 years to the Emergency Services for both domestic and international causes, most notably the British Columbia Bushfires (Canada) in 2017 and the recent Canberra bushfires in 2020. Along with his duty as a primary responder with the ACT Ambulance Service (ACTAS), Susith is passionate about disseminating the wealth of knowledge and experience he has acquired over the years to help develop the next crop of graduate paramedics for ACT. With an altruistic commitment towards protecting the community, Susith completed a Masters in Disaster Resilience and Sustainable Development to equip himself to face the changing times and challenges. He has held numerous positions as a member of the ACTAS and the ACT Rural Fire Services (RFS).

Simon Gallagher
Simon believes in compassion and empathy being essential healers of the community. These qualities have been Simon's guiding pillars throughout the 2 decades of exceptional community service. Along with his day job as an intensive care paramedic, Simon volunteered with St John Ambulance for 18 years and also works with the Australian Medical Assistance Team (AUSMAT). Most recently, he supported the firefighters during the Braidwood and Namadgi fires in 2019, volunteered at the Moruya Hospital during the South Coast fires, and was involved in the quarantine facility in Darwin for passengers affected by the pandemic from the Diamond Princess. In his free time, Simon also enjoys sports, four-wheel driving, and camping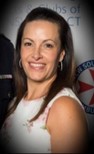 Tania Thompson
Tania is fondly known as the 'Real Chief Officer' in her professional circle for her selfless nature to go above and beyond for all her stakeholders and the community at large. In addition to her day job, she also works in community building activities like the War Widows Guild where she provides emotional support to grieving spouses. Furthermore, Tania is also a volunteer Peer Support Officer and Coordinator with the ACT Ambulance Service (ACTAS) and a Respect, Equity and Diversity (RED) Officer with the Emergency Services Agency (ESA) where her role is to foster a healthy and respectful workplace culture.

ACT RURAL FIRE SERVICE


Ian Morey
In addition to his day job with the Australian Public Service (APS), Ian is a veteran firefighter with the Rivers Volunteer Bushfire Brigade and has served the community for past 2 decades. He played a vital role in containment of the 2019-20 Canberra bushfires as a brigade's equipment officer and even doubled up as their cook to feed not only the firefighters but also the bushfire victims, keeping their morale high. Ian has exemplified a service above self-attitude by delaying his retirement, since his family committed to being foster carers for their granddaughter

Kaylee Rutland
Kaylee is a Senior Director with the Emergency Services and has dedicated nearly 14 years to community service. Kaylee is recognized within the communication fraternity for her compassionate messaging and also her uncanny ability to stay calm during trying times. If you heard anything over the print or digital media during the unfortunate Canberra bushfires, it was likely that it came out of Kaylee's office. She spent several sleepless nights in her office and away from her family ensuring clear and regular messages reached the community. In addition to her day time job, Kaylee also regularly deploys interstate to assist with emergency communications, recently assisting with fires in Northern NSW, Northern QLD, and the NSW south coast.

Jaimie Vincent
Jaimie is a proud indigenous woman from the Wiradjuri and Dharawal people and is passionate about creating positive relationships within the community through cultural exchanges. She is also a serious advocate for Child protection, she and her family actively support Indigenous children and their families in the foster care system. In her professional life, Jaimie has been associated with the Emergency Services Agency (ESA) as a Volunteer as well as a member of staff since 2018. In addition to her commitment to the ESA, Jaimie is also a certified AUSLAN Interpreter which has helped her to assist the community through her roles with ESA, ACT State Emergency Services (ACTSES) and the ACT Fire & Rescue Community Fire Units
ACT STATE EMERGENCY SERVICE


Roger Edwards
Having worked ceaselessly for 40+ years for the community, Roger has played an integral part in developing resilience in the Canberra community through engagement and education. Until recently, he was the Deputy Commander of the ACT State Emergency Services Rivers unit (SES) when the Canberra bushfires took place. He volunteers for the Royal Society for the Prevention of Cruelty to Animals (RSPCA) in the small animal's section. Prior to these stints, Roger was a Scout leader for 5 years. Roger is extremely passionate about environment conservation and served on the Canberra Bushwalking Club committee for over 20 years
..

Shelly Walsh
Shelly is an Australian Army veteran and voluntarily retired from the services in 2012. Since 2015 she has been associated with the ACT State Emergency Services (ACTSES). She is considered a role model by her colleagues for her selfless attitude, and the high standards she has set for the team. In fact, Shelly has consistently proved on the field that women are at par with men in virtually any setting. She is heavily involved in storm response, search and rescue and logistic operations in coordination with the Australian Federal Police (AFP) and the ACT Rural Fire Services (ACTRFS) as their Equipment officer.